Old School Review: Super Mario Brothers Trilogy
12 January 2009
No Comment
Even though 1985 was the beginning of the most celebrated gaming Icon in the gaming world, Mario's origins go back way farther than that. His beginnings would start in the ever-popular Donkey Kong series in 1981 and with his first official game in 1983 simply called Mario Bros and the rest is history. In what would bring the video game industry back from the grave, Super Mario Brothers is the most successful franchise in gaming history and if you do not know him by now then you surely have been living under a rock.
As for my connection with this plumber would begin in 1985 or 1986, do not remember when we purchase the NES but it came with Duck Hunt with the package. If memory serves me correctly, the furthest I ever got on the console was level 8 without beating it. It took many years to get that far, but of course, my brother was able to beat it, go figure. With Super Mario Brothers 2, I got it the Christmas it came out or the Christmas after, not sure though, heck I even remember how I lost it thank to some jackass and me not knowing I was taken advantage of. I know I beaten it on the console with the help of my bro and some friends and so I was happy about that.
Super Mario Brothers 3 has a very interesting history, the first video game to be introduced to the world by Hollywood from a movie called The Wizard with Fred Savage as the star and Christian Slater as well, good movie by the way. Of course, it would be quite a long before I would actually play this game, but thanks to Nintendo Power, I got to Level 7 (lol). Never beat the console version as it was still as hard as hell, but I would eventually beat this game and the other two through the Emulator thus completely three of the greatest games on the planet.
Although I have played many of Super Mario games across many different consoles and various graphic and sound upgrades, these games show the testament of time of how the video game industry would be from now on. So let go into review mode in 2009.
Super Mario Brothers Trilogy
Some Screen Shots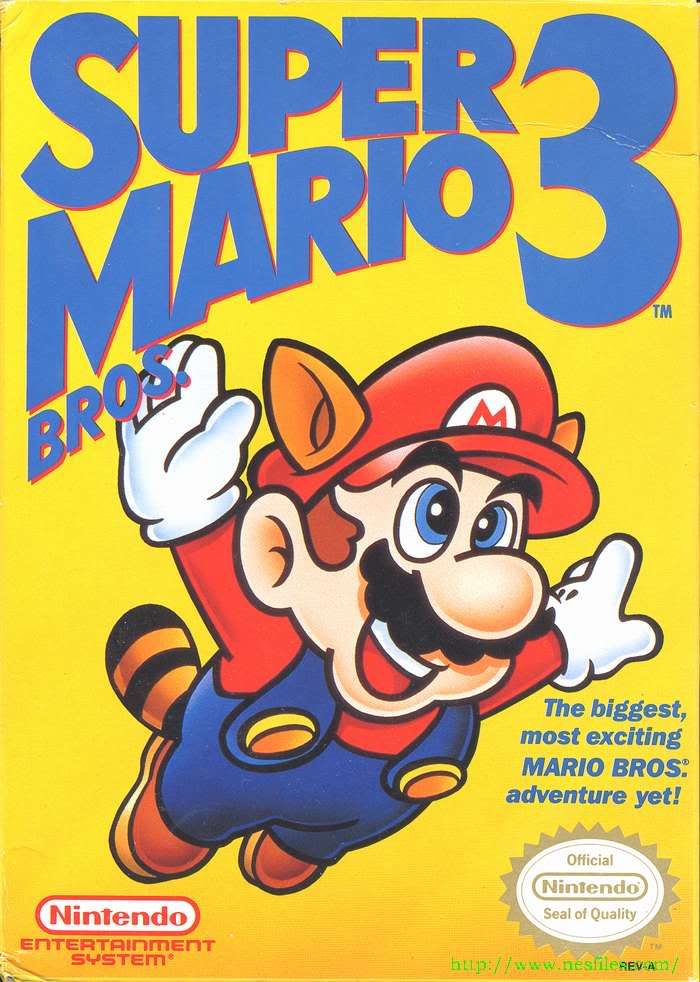 Game Maker: (SMB I) Nintendo EAD (SMB II) Nintendo EAD, (SMB III) Nintendo EAD
Year: (SMB I) 1985 (SMB II) 1988, (SMB III) 1991
Price: $40-$50 a game
Levels: (SMB I) 8 Words with 4 Sub Levels, (SMB II) 7 Worlds with 3 sub levels with the exception of World 7 which only had two, (SMB III) 8 World with 8-10 sub levels
Sound: (SMB I) 10, (SMB II) 10, (SMB III) 10
Graphics: (SMB I) 10, (SMB II) 10, (SMB III) 10
Mini-Games: (SMB I) Getting Extra Coins, (SMB II) slots, (SMB III) extra 1-ups, equipment, memory card game
Difficulty: Back then (SMB I) 8, (SMB II) 8, (SMB III) 8 Now: (SMB I) 6, (SMB II) 6, (SMB III) 6
Game play:
Side scrolling run and jump action with some fireballs and stars.
Plot:
Two Brooklyn Plumbers of Italian descent name Mario and Luigi become unlikely heroes in the Mushroom kingdom as they must fight against Bowser King of the Koopa's. With the help of the princess and the mushroom people, these two Italian plumbers stand up to this evil lizard and his family and minions as they bring peace back to the Mushroom Kingdom.
First Impressions:
Damn you Goomba's and turtles and Damn all the Koopa's minions, this game was addicted, fun and spent many hours trying to beat. When I did not feel like playing this game anymore, quick reset and off to Dunk Hunt or another Nintendo game. I believe I drop a lot of bad word to this game, take a wild guess what they were (lol).
23, 21, 18 years later:
I don't care if you were born under the Playstation or Xbox these games are still 100 times better then any game in this century in HALO. I still play them from time to time, with logging in quite a few hours during 2004-2007 and still the games are challenging and the music awesome and good to listen to. So to conclude, IT ME MARIO, WELCOME TO NINTENDO 64! Well ok, not really that but Mario you are a legend that will never get old no matter what the new generation says
Overall Ranking:
(SMB I) 10, (SMB II) 10, (SMB III) 10
Now for that Catchy slogan–
"Games don't get old, just people!"
–Now for some copyright info–
Images and of course games are copyrighted to its perspective owners blah blah blah. Roms are illegal and so do not get caught blah blah blah or else blah blah blah. Reviews and opinions are my own so don't argue with me unless you can prove otherwise why this game sucks and 100% of the time you are wrong because one your either a new school gamer and don't know a good game when you see it or two, well there is no two so HA!!. All slogans, trademarks and names excluded the games I review are copyrighted to me blah blah and blah. 2007-2009 SM Old School Legend.